Product News
INCREASE IN MINIMUM ORDER VALUE TO QUALIFY FOR FREE DELIVERY
Due to increases in courier costs forced on us by high inflation and the cost-of-living crisis we have, reluctantly, been forced to increase the minimum order value to qualify for free delivery to £50 excl VAT.
We believe this to be fairest method of covering these increased costs, with the majority of our customers seeing no change in their courier costs across their orders.
At £50 excl VAT, we are still offering one of the lowest carriage paid order levels across UK online electrical wholesalers.
Thank you.
INTERNET ELECTRICAL
Industrial Action - Parcelforce
Because of the continued industrial action at Parcelforce - and the subsequent direct effect on other couriers, certain deliveries may be delayed beyond the timescales stated on the website.
We apologise for this and are doing everything within our power to minimise the effect of these delays of industrial action on our customers.
Thanks for your patience - Internet Electrical
Issue 2 online catalogue available - Upgraded Functionality
Internet Electrical are very excited to announce the launch of our new page turner online catalogue. Now with 234 pages and 100s of NEW products added.
NOW WITH ADDED USER FUNCTIONALITY
Every product code in the catalogue is now linked to its corresponding product on the website. Simply click on the product code in the catalogue and it will display the full product information on the website. Allows you to more easily add-to-basket.
We have also added a SEARCH function and CONTENTS option to allow you to find the products you require with ease.
So why not take a look... BROWSE, CLICK, SAVE.
We are proud to announce the launch of our new 220 page online catalogue
This product packed publication highlights some of our key ranges available throughout our website. You can easily find the section of the catalogue you wish to view by 'clicking' on your selection on the contents page (pg 8). As well as all the categories you would expect to find, from Lighting Fittings, Domestic Wiring, Cable Accessories through to Switchgear - we have also showcased some great OFFERS. From page 3 - 6 you will find our SPECIAL OFFER PACKS. These are the products you use everyday, so why not stock up and take advantage of the bulk buy savings. When you find something you are interested in, simply 'click' and you will be taken to the relevant page on the website - to allow you to view the product in more detail and order. So why not take a minute to have a browse and see the best of what we have to offer - ALWAYS LOW PRICES
Have you tried Quick Order - Shop by Code?
Our award winning website is packed full of handy, time saving features. QUICK ORDER works like a picking list. If you know the order codes of the products you wish to purchase, simply input them and add to basket. Why not download the PDF of our online catalogue and print off a copy, giving you all the Order Codes as reference to quickly and easily input.
Flexicon protects circuit integrity with unique Connectabox™ circular junction box
Flexible conduit systems manufacturer, Flexicon has launched Connectabox™, a weatherproof, IP68/IP69 circular connection box. It provides a faster and simpler way to interconnect circuits and wiring assemblies, while offering superior cable protection for external environments.
Connectabox™ has been designed to protect safety and performance-critical cabling and simplify cable management. The 110mm, round junction box offers a wide range of features to make installation simpler and faster.
In contrast to conventional enclosures, which utilise knockouts or require drilling, Connectabox™ features four easy-to-connect entry points as standard. This provides quick access and termination for different sizes and types of flexible conduit, from 16mm up to 34 mm, using Flexicon Ultra (FPAU) push fit connectors.
Significant time savings on the job are realised with the intelligent push, twist and lock connector system with integral seals. Contractors can make a reliable connection in seconds, without having to remove knockouts, drill holes, fit locknuts or even torque tighten any components.
The non-metallic IP66, IP67, IP68 and IP69 box is manufactured in modified Nylon PA6 glass reinforced material, offering high impact strength with superior levels of ingress protection without the need for gels or additional seals. It is UV resistant and ideal for external use.
New Duceri emergency exit signs from ESP
ESP has added three new products to its expanding Duceri LED Exit Sign range, which offers installers and designers a comprehensive range of independently tested products which combine high performance with ease of installation.
The new 4-in-1 Maintained Slimline Exit Box is manufactured from polycarbonate to offer a compact and lightweight alternative to the traditional steel exit boxes and it is supplied with all directional legends (Up, Down, Left and Right). It features a 3W LED lamp, with 45 lumen maintained light output and offers a viewing distance of 29m. In addition, the fitting has a separate LED lamp on the base of the unit to illuminate the area immediately below for extra light distribution.
The new 4-in-1 Maintained Exit Sign and 4-in-1 Hanging Exit Sign are supplied with interchangeable, double-sided directional legends to assist with installation and stock considerations. The fittings each feature a 3W LED lamp, with 60 lumen maintained light output and offer a view distance of 24m.The hanging sign can be adjusted up to 650mm from the base.
Each new product offers three hours emergency duration, with charge and discharge protection, and a vibrant green LED battery charge indicator.The fittings have been tested to meet BS EN 60598- 2-22 Standards (requirements for emergency luminaires).
Consort Claudgen launches new downflow fan heaters
Consort Claudgen have launched two new downflow fan heaters, the DF2 and DF2SL Heatflows.
The DF2 and DF2SL Heatflows provide rapid warmth and adjustable heat output of 1kW or 2kW at installation. The DF2 Heatflow has a simple pull cord operation. Once the heater is activated, it operates on a pre-set period of 30 minutes or can be deactivated before the energy saving timer expires by pulling the cord again.
The DF2SL Heatflow has a variable thermostat and requires a separately purchased wireless controller to operate. It is compatible with Consort's SL run-back timers and advanced wireless controllers offering a longer heating period as well as more efficient heat control.
With sleek and compact design, yet practical functionalities, these heaters make the perfect choice to suit building owners' heating requirements for bathrooms or kitchens.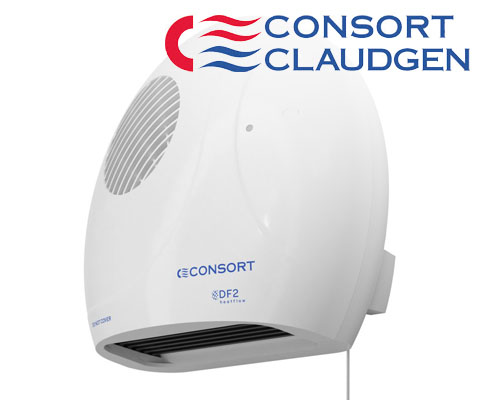 C.K Lighting the Way with an Exciting Range of New Products
C.K is set to extend its successful lighting range, with a fantastic selection of innovative new products, including a range of high performance site lights and head torches, that offer a host of advanced features and benefits, including the very latest in LED lighting technology. This includes: The C.K T9613 Head Torch, a feature packed, powerful LED head torch, available in a USB Rechargeable model or battery operated option; and the C.K T9735USB 10W Rechargeable LED Site Light, one of the most powerful compact site lights on the market.
K T9613 LED Head Torch & T9613USB Rechargeable Head Torch. Available in either a rechargeable or battery operated version, this powerful head torch, features a 270 Lumen output, has a choice of 7 lighting modes and a run time of up to 9 hours. Other features include: An 80° tilt ability; a 90m beam distance; and a motion sensor that allows for a quick and convenient way to turn the head torch on and off, with just the wave of a hand. The C.K Head Torch is also comfortable to wear, thanks to its lightweight and durable construction.
K T9735USB 10W Rechargeable LED Site Light. One of the most compact site lights available, this powerful rechargeable site light offers a 700 Lumen output, 2 lighting modes and a run time of up to 4 hours. This premium quality site light can be focused at any angle, thanks to its full 360° tilt mechanism, with the option to mount on a tripod, or a variety of metallic surfaces via a magnetic base. The site light can also act as a power bank, making it ideal for charging mobile phones etc.
Whatever the task in hand, the new C.K lighting products, are designed to offer trade professionals a great choice of innovative products that combine versatility with the quality and reliability they have come to expect of the C.K brand.
C.K Magma - The Best Premium Tool Storage Solutions for Professionals
The current C.K Magma Test Equipment Case has proved a big hit with consumers, but C.K Magma has listened and made the best test meter storage solution even better. By listening to feedback and its focus and commitment to working closely with trade professionals, this has allowed the C.K Magma range to evolve and develop which, in turn, has led to the introduction of new features in its Test Equipment Case Plus (MA2641). Perfect for those who need to easily transport and protect valuable diagnostic test equipment and essential tools in one handy case, the premium Test Equipment Case Plus offers a host of enhanced features and benefits.
This includes: Improved access with easy-opening lid and two retaining straps; a bigger/deeper overall design, suitable for the latest generation of test meters; adjustable padded compartments for the safe transportation of test equipment and accessories; a convenient storage compartment to hold all the essential tools needed, plus 27 easily accessible pockets and a handy business card and document holder. Featuring a durable polyester construction, this quality test equipment case has a 100% waterproof polymer base for increased durability, plus a red inner lining for easy visibility of stored items.
Transportability is a key feature of the C.K Magma Test Equipment Case Plus, which can be incorporated with any C.K Magma Wheeled Technician's Case thanks to an integrated trolley strap. This makes transporting tools and test equipment easier than ever, particularly where vehicle access is restricted. Once onsite, portability is hassle-free with a robust carry handle and separate padded shoulder/neck strap, which also allows hands-free operation of test equipment. There's also a heavy duty lockable zip system for added security.
Tamper-resistant fixings from Deligo
As a supplier to electrical wholesalers for over 25 years, Deligo is pleased to announce the launch of an extended range of security-type products designed specifically for the electrical contracting industry.
Increasingly, architectural and project specifications are demanding fixings with a higher level of security than the traditional Slotted or Cross recess drives that have been the norm over many years.
The Pin Torx drive found on Deligo products ensures that, where it is necessary, fixtures are more resistant to tampering, vandalism or un-authorised access. Schools, hospitals, prisons, transport hubs, government buildings and countless other settings can benefit from the peace of mind that this system can bring.
Whether it is securing switch and socket boxes, cable conduit systems or a multitude of other sensitive applications, the Deligo security screw range has the solution.
C.K launches cutting edge power tool accessories
Renowned for high quality power tool accessories, C.K offers everything trade professionals need to power through jobs quickly and efficiently. With that in mind, C.Khas enhanced its range with innovative new products, including three new Multitool Blade Sets; a new 40mm HSS Cobalt Sheet Steel Hole Saw; and a Glass and Ceramic Drill Bit set of five, all designed to consistently achieve the best results.
The three C.K Multitool Blade Sets, all feature bi-metal blades and include the C.K Multitool Blade five-piece set (T0870) and two 2-piece sets (2 x 34mm x 40mm wood/metal bi-metal blades T0875 and 2 x 28.5mm x 57mm wood/metal bi-metal blades T0876).
All the C.K sets were derived from field research, which showed electricians often need to cut through wood and plaster – sometimes nail embedded – and therefore need touch blades to complete the task effectively. The new C.K Multitool Blade 5-piece set contains 2 High Carbon Steel Blades and 3 BiMetal Blades, with the full set comprising: 2 x 34mm x 40 wood HCS; 1 x 34mm x 40 BIM; 1 x 80mm dia BIM; and 1 x 65mm x 42 wood BIM M2.
The C.K HSS Cobalt Sheet Steel Hole Saw 40mm (T3202 040) offers a faster, smoother cutting action to reduce burring, its cobalt and alloy steel construction allowing it to cut sheet steel faster than standard hole saws. This high performance 40mm hole saw is perfectly placed to address the growing popularity of gland nuts with a 40mm thread.
Titanium nitride coated and tungsten carbide tipped, the C.K Glass/Ceramic Drill Bit Set of 5 (T3059) offers a quick and efficient solution to drilling holes in ceramic and glass. The set contains: 4,5,6,7,10mm bits with a ¼" quick change hex shank.
Designed to work seamlessly with power tools from all the major manufacturers, C.K's new power tool accessories offer quality and reliability to ensure maximum performance every time.
Lewden Switch Disconnectors and Switch Fuses offer solution to variety of applications
Lewden has recently replaced its range of Three Phase and Neutral Switch Fuses and Isolators. It has a wide range of wall mounted, steel enclosed switch disconnectors and switch fuses designed with the user in mind.
Ideal for use in exposed environments, the IP65 enclosures come in a wide range of standard sizes available from stock, offering a solution to a wide variety of applications.
The complete range includes Switch Disconnectors from 32A up to 630A, Switch Fuses from 100A up to 630A and Fused Switches from 32A up to 125A
Engineered for time saving, Lewden enclosures are manufactured using 1.2 mm sheet steel and epoxy powder coated with RAL7035. These enclosures are equipped with an AC 23A Isolator switch, allowing safe operation even with highly inductive loads (motors, etc.) Safe access is provided via a reversible door with a door handle lockable by up to three padlocks.
Boris LEDing the way in high bay | Thorn Lighting
The Boris LED High Bay is the latest energy saving solution from Thorn Lighting's THORNeco family of functional luminaires specifically created for a variety of high ceiling applications including production facilities, warehouses, exhibition halls and retail outlets.
Boris is a circular pre-wired 150mm luminaire which is easy to install as it comes complete with THORNeco's new Conny connector allowing for quick plug and play free installation. For presence and daylight sensor connection, the installer simply plugs the BORIS PLUG&PLAY MWS sensor onto the ZHAGA socket connector in the centre of the luminaire and is controlled via a dial control or through a remote control system. For emergency conversions THORNeco offer a separate E3 Plug and Play kit.
Boris offers an extremely efficient and powerful lighting solution which has been designed to provide a broader light distribution, allowing for a homogenous illumination on ground level and the prevention of hot spots. The luminaire is available in 4 lumen packages from 13,000lm up to 30,000lm and has a 50,000 hour lifetime, keeping maintenance costs to a minimum. The robust luminaire is IP65 rated so it is dust tight and water resistant and also has a IK08 impact resistance rating.
The THORNeco range is perfect for replacing conventional lighting with high efficient LED's and incorporates luminaires for a variety of applications all of which come complete with a five year guarantee.